Fiber optic monitoring systems for the marine sector
Through the EU funded 'MOSES Project' (Multiplex Optical Sensors Hull Stress Monitoring System), Pegaso Systems assisted in the design of a hull monitoring system, to address structural problems caused by loading patterns and stresses imparted by adverse weather conditions. This project saw the development of a sensor designed specifically for this task that uses our Draw Tower Gratings and has become the standard for Pegaso within this industry. The system monitors >100 temperature compensated sensors, located in ballast tanks, on decks or cargo holds and is able to measure the real stress suffered by a ship during the loading/unloading operations or navigation in heavy weather conditions and moreover the fatigue cycling over the ship's life.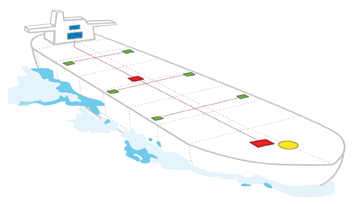 Each individual sensor value can be viewed and transmitted over a network via an embedded web server and >100 Hz acquisition speed is possible. Programmable min/max warning and alarm thresholds are used to set up the system per application.