FBGS joins a European consortium of research centers and industry partners, offering advanced technical lectures and training at the spring school on "Fundamentals of Optical Sensors" of FINESSE at Vrije Universiteit Brussel campus during (6-9) June 2017.
FINESSE (FIbre NErvous Sensing SystEms) is a collaborative research and training network with the ultimate vision of a widespread implementation of distributed optical fiber sensor systems targeting a safer society. The program is funded by the European Union's Horizon 2020 Research and Innovation Programme under the Marie Slodowska – Curie grant agreement n°722509.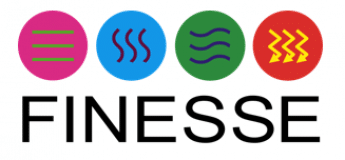 The objective behind FINESSE is to mimic the nervous system of living bodies by turning man-made and natural structures into objects that are sensitive to external stimuli owing to advanced distributed fibre-optic sensor technology. The objective is to either give an early warning in case of possible danger or occurrence of damage, or to optimise the operation of the structure to allow for a sustainable use of natural resources and assets. Enabling such functionalities will greatly contribute to realizing a safe, secure and energy-efficient Europe, which is an identified societal concern.
To turn this ambitious concept into reality, 26 European universities, research centers and industrial partners have teamed up to set up this Innovative Training Network. The common objective is to educate and train 15 Early-stage Researchers in the development of a set of disruptive new optical 'artificial nervous systems' and to boost the industrial uptake of these sensors by technology transfer from academic research to the European optical fiber sensor industry.
As a partner organization of FINESSE, FBGS will contribute with a lecture on "Industrial Fiber Bragg Grating (FBG) sensors" at the spring school on "Fundamentals of Optical sensors", which is the first training event organized by the FINESSE consortium.
The Spring School will take place in Vrije Universiteit Brussel campus during 6-9 June 2017 and is addressing early career PhD students and professionals that are interested in learning about the basic techniques that enable the measurement of many different physical quantities by exploiting the unique properties of light.
For more information about FINESSE and the program, please visit: https://itn-finesse.eu/