Optical fiber to the core: measuring vibrations of a nuclear fuel assembly with DTGs
Researchers from the Brussels Photonics Team (B-Phot) of the Vrije Universiteit Brussel joined forces with the Belgian Nuclear Research Centre (SCK•CEN) to develop a DTG®-based sensing solution to study the flow-induced vibrations in a liquid metal cooled nuclear fuel assembly.
Draw-Tower Gratings (DTG®s) with their unique Ormocer® coating from FBGS have been used advantageously to carry out long term dynamic strain measurements in a nuclear fuel assembly at elevated temperatures (up to 300°C) in the presence of a liquid metal coolant.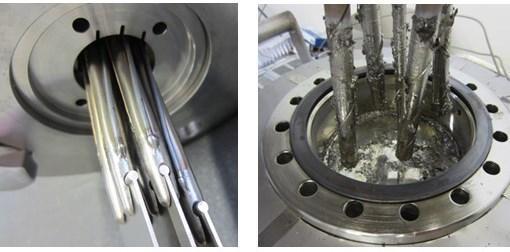 The excellent fatigue-resistance characteristics of the DTG®s are especially useful during thermal cycles and shocks. The higher yield strength of the DTG®s is particularly important during installation and handling of the fuel assembly. Due the properties of the liquid metal at elevated temperatures, the coating of the fiber should also be chosen carefully. Owing to its ceramic nature, Ormocer® has shown to be inert in the tested liquid metal environment. More information about this application of Ormocer®-coated DTGs can be found here.