Description:
The "ILLumiSense" software v2.3.x is intended to perform real time measurements using the FBG-Scan 7xx/8xx interrogator series. The software allows configuring of optical sensors and can be applied to visualize, stream and save wavelength data or engineered data (strain, temperature, …). The "ILLumiSense" software is compatible with the following models of FBG-Scan interrogators: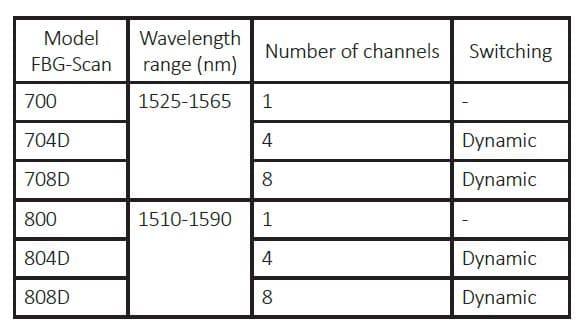 Features:
• Full spectrum visualization (2 Hz) for setup and diagnostic purposes
• FBG peak determination based on adjustable threshold level.
• Calculation of relative wavelength difference (default), strain, temperature or temperature compensated strain from the measured FBG wavelengths with the aid of the sensor calibration parameters (when needed).
• Easy reset of reference wavelengths at any point in time.
• Real time visualization of wavelengths or engineered data.
• Stream and record spectral, wavelength and engineered data up to 5 kHz.
• Streaming via TCP/IP protocol or via LabVIEW Shared Variables.
• Possibility to set ranges on the FBG-sensors to overcome issues with peak identification in case of failures in the sensing network.
• Possibility to combine with Watch Dog Timer in order to be able to assure long term continuous data logging.
Product materials:
The software is delivered on a CD-ROM that contains the installer files, together with several other example files, documentation and a few interrogator specific files. The following items can be found on the CD-ROM:
• ILLumiSense Installer
• Calibration file (interrogator specific)
• Operation manual of the software
• Product key (interrogator specific)
• USB device drivers
• Example LabVIEW program for the Shared Variable data receiver
• Example LabVIEW program for the TCP/IP data receiver
• Watch Dog Timer Installer